The South Marshall township is a smaller, yet long township bordered by the French Broad River on the northeast, and Buncombe County on the southwest. The primary agricultural crop of burley tobacco ceased production with the end of the Tobacco Price Support Program in 2004, and as tobacco barns were no longer income-producing, the incentives to maintain them declined, leaving a farmscape of many seemingly abandoned barns. On the east end of the township, along the Rector Corner ridge, there are even fewer surviving barns. This may be attributed to changing development patterns as new, post-tobacco landowners sought the scenic views rather than farmland.
Farther west and north, the landscape changes and is comprised of five different valleys, with the ridges between, and represent classic Appalachian farmscapes, with small acreages of tillable land that demanded hard work and frugality throughout the past two centuries of mountain farming. The surviving historic barns, many now relegated for use as storage buildings, reflect those strenuous lifestyles. Many sixth and seventh-generation families remain on the original family land of the early 19th century settlement period.
The known history of these older barns varies: most have survived with few remaining family descendants to tell their stories. In general, the barns were built by the farm family with the help of neighbors and perhaps a local carpenter.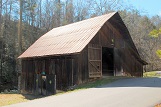 64 Highland Creek Drive
Marshall, NC 28753
This barn and farm are set along Sandy Mush Creek which forms the southern boundary of Madison County with Buncombe County. The site was once known as Trail Branch and was situated along a major wagon and stagecoach road that ran from Asheville to Marshall, and later became NC 20. The farm is rolling hills, most of which are steep with only small bottomland areas for farming and is on the southern end of the Pleasant View community and the Rector Corner area of Madison County. Read More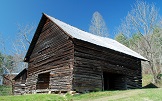 4137 Rector Corner Road
Marshall, NC 28753
The Obediah and Polly Odell Jarrett family moved from what is currently known as Jarrett Cove in the Big Laurel Creek area of Madison County, approximately in the mid-1800's, to Blow Hole Road off Rector Corner Road. The barn is believed to have been built in 1864 by Obediah's son, Zebulon Baird Vance Jarrett. Family oral tradition describes Obediah as a Civil War Confederate soldier who deserted three times, but was favored by Governor Zebulon Vance thus the name for his son. Read More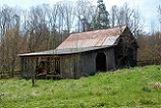 273 H.C. Rector Road
Marshall, NC 28753
The Rector family land ownership goes back to the early settlement period of this part of WNC, with the barn remaining on Rector land owned intermittently, but consistently by the Rector family. The barn is a hewn, timber livestock barn dated from the late 1800s to the early 1900s. The most likely owner/builder of the barn is the barn's namesake, John Peirce Rector, born in 1859. The Rector family has a long history of property ownership in the Marshall Township. Read More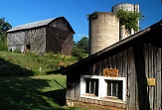 161 Ramsey Snelson Rd.
Marshall, NC 28753
Ernest Snelson liked to tell the story that, when he was six years old, his father Elmore built the dairy livestock barn. That was 1917 and makes this barn, with its gambrel roof design, one of the earliest Madison County barns with this type of roof. Its use marked the transition from split-oak wood shingles for roofing, to the "new" sheet metal roofs. Wood shingles required a roof to have a steep pitch, to quickly shed water and snow, but the new metal allowed Read More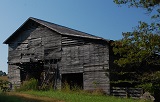 161 Ramsey Snelson Rd.
Marshall, NC 28753
This massive burley tobacco barn was built in 1948, part of a surge in burley tobacco barn building following WWII, as men returning from the War were eager to rebuild their family's farm economy. It was built by Ernest Snelson, son of Elmore Snelson, when he was 32 years old. A unique technique used in its construction is the use of empty wooden nail kegs as containers for the poured concrete footings that anchor the interior vertical posts of white pine. It has an unusually large center hallway, with Read More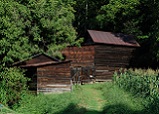 2225 Bailey Branch Rd.
Marshall, NC 28753
The John F. Payne barn is a rare surviving log, flue-cured tobacco barn, eighteen feet square, and eighteen logs high. It has three additions built later in its life for the hanging of air-cured burley tobacco. Flue-cured tobacco was grown here from 1870 to around 1920, and few barns of this type have survived. This tract of land was acquired by Anderson L. Payne in 1880, when he purchased 150 acres at county auction for $300. Anderson Payne died in 1897, leaving Read More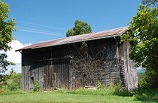 1138 Turnpike Rd.
Marshall, NC 28753
This large, well-built livestock barn is thought to have been built in the 1950s and utilizes materials and construction techniques that were becoming popular then: concrete block for the foundation, and "modern" corrugated metal roofing. Several, more traditional elements have been carried over from earlier building methods, including the use of lattice strips for ventilation under the eaves, and a corn crib that is part of the main structure. It is also a bank barn with access Read More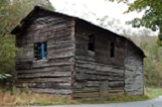 Allen Drive
Marshall, NC 28753
The Allen E. Roberts barns share a common history that dates to the early 1800s. Both barns are examples of log cabins that were replaced by more modern houses, then converted to burley tobacco barns in the mid- 1950s, likely by Allen E. Roberts. This was a common practice, as families became prosperous and built the newer-style frame houses. Roberts family oral tradition Read More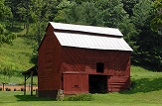 87 Hawk's Nest Rd
Marshall, NC 28753
The Loye Worley livestock barn is an uncommon barn type, using the innovative monitor roof with the raised vent section along the ridge, which created better airflow for drying hay and air-cured burley tobacco. The first monitor roof barn in Madison County is thought to have been built in 1917. This barn was built in the 1930s about the same time of the nearby house. This bank barn, with loft-level access from the embankment Read More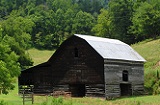 1138 Turnpike Rd.
Marshall, NC 28753
Family descendants believe this barn was built by their great grandfather, Monteville (Mont) Whitson Farmer, sometime during the period of the 1920s to the 1930s. It is a classic log crib livestock barn, with four log cribs for animal stalls, separated by hallways running in both directions. A feature that is not classic is the gambrel roof, used here instead of the more typical gable roof of the period. Introduction of the gambrel roof likely coincided with the availability of Read More