The Appalachian Barn Alliance formed in 2012 to capture– in oral histories, photographs and architectural drawings — the evolution of the Southern Appalachian barn. The barns of the Southern Appalachian farmstead are an iconic symbol of a rural county's farming lifestyle of harvest and resilience. The initial focus of the ABA is Madison County, North Carolina, north of Asheville along the border with Tennessee, where thousands of barns can be seen across the mountain landscape.
In Madison County there are over 10,000 of these Southern Appalachian-style barns. The ABA has identified from one to fourteen historic barns in each of the eleven townships that our organization is working to document. Researcher Taylor Barnhill spends several hours at a barn to collect specifics on the measurements and materials before compiling that information into the data that is stored for amateur barn lovers and professionals to access for research. That detailed information includes a data sheet, architectural sketches, and scores of pictures of all of the features of each barn as well as additional information when available.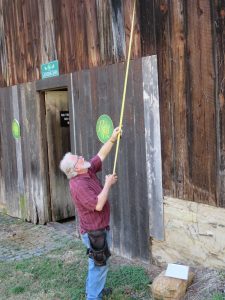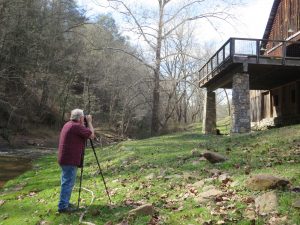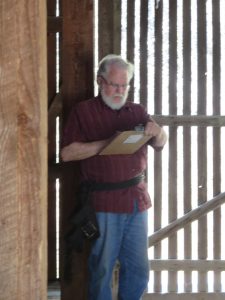 We invite you to explore the agricultural history reflected in Madison County's barns, through the research results available here. Search for details on historic barns by typing in a characteristic or feature, or simply choose to explore a geographic area by selecting a township. (A BRIEF HISTORY IS BELOW THE MAP)

SEARCH on any feature using box above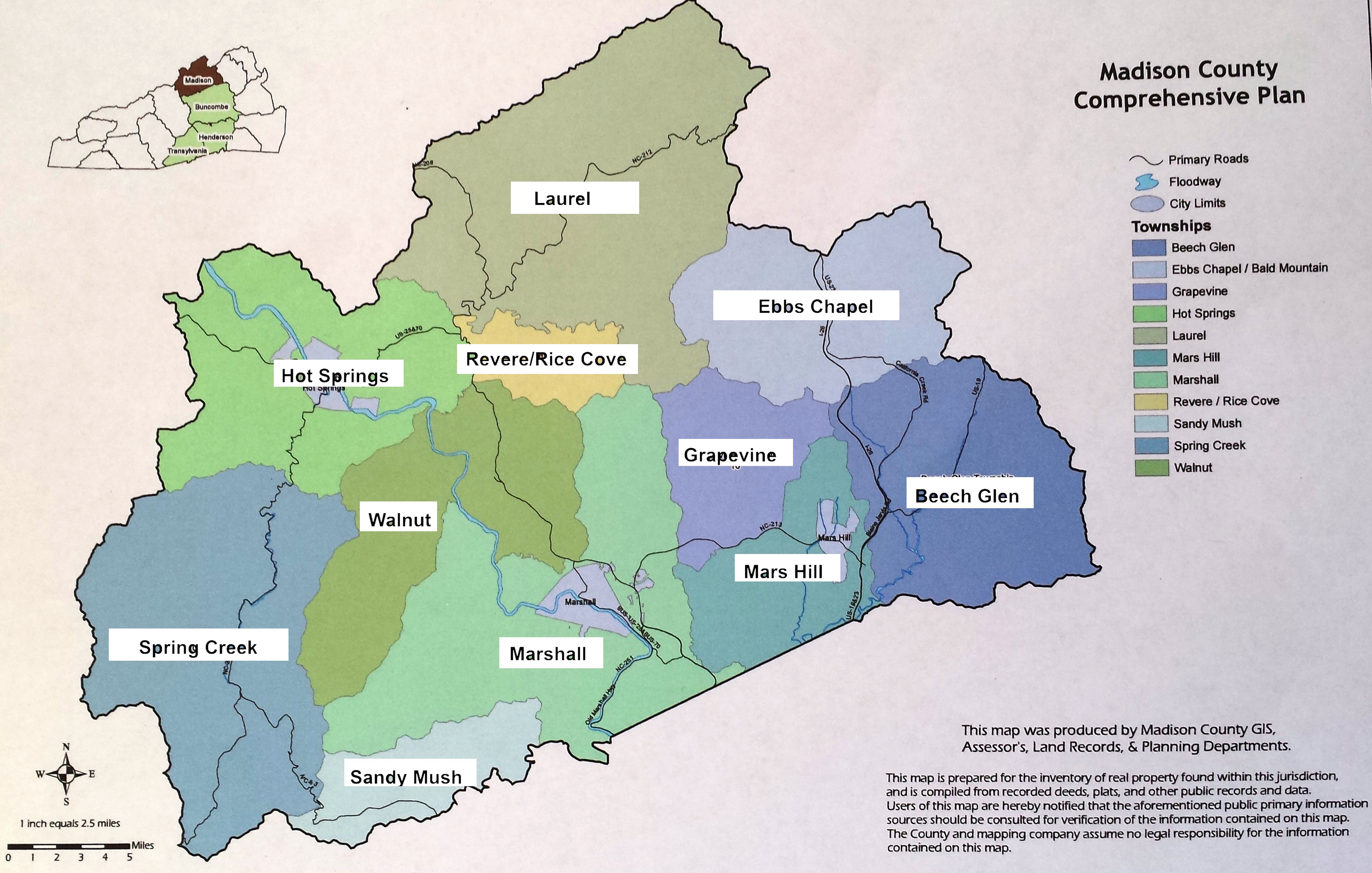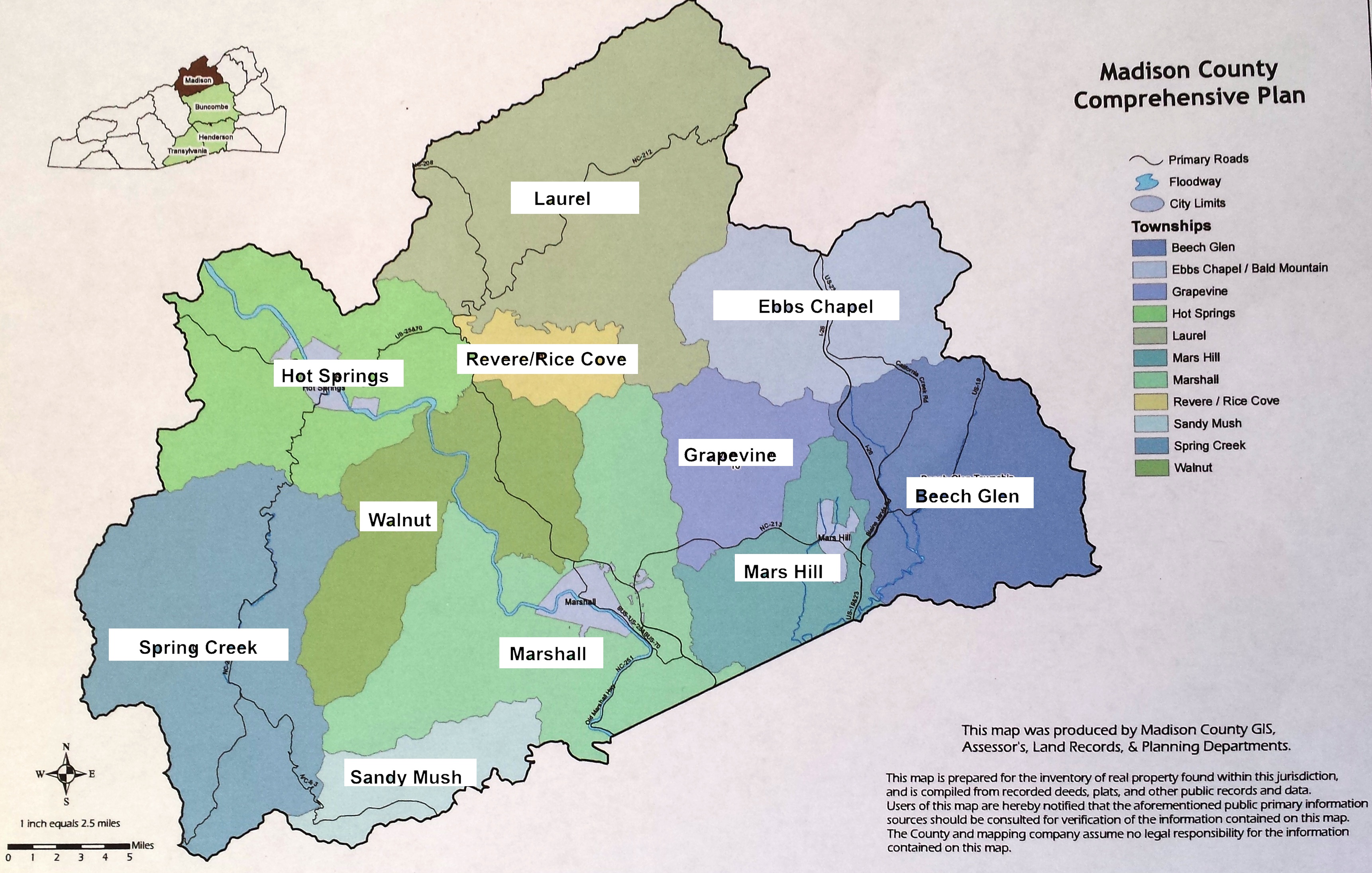 A Brief Summary of Madison County Farm History
While most of us think of burley tobacco when we see a mountain barn, burley tobacco represents only the last eighty-plus years of mountain farming, from 1920 until the federal tobacco support program ended in 2004. During the mid-twentieth century, Madison County was the state's largest producer of burley tobacco, with virtually every landowner growing a crop, from the small plot grown by a farm wife for "paying doctor bills" to large acreages. As an air-cured tobacco type, burley tobacco curing was easily adapted to the existing log livestock barns with voluminous hay lofts that allowed ample air flow throughout. It was not until the late 1930s that farmers began building barns exclusively for curing burley tobacco, with the post-WWII period seeing a significant increase in burley barn construction.
Prior to the introduction of burley tobacco, "bright leaf" flue-cured tobacco was grown as the area's first major commercial crop, from around 1870 until the early 1920s. A heat-cured tobacco, it required specialized barns that could be wood-fire heated, built of logs with clay chinking to seal in the heat. Most of these barns were later adapted to burley tobacco by removing the clay chinking and increasing the tier pole spacing. Few of these earliest tobacco barns have survived.
The late 18th century white settlement of the lands that became Madison County, (carved from Buncombe and Yancey Counties in 1851) benefitted economically from the topography and central location in the mountain region. The French Broad River flowed through the county's center, fed by hundreds of creeks and two rivers, and connected western North Carolina to east Tennessee. The river banks had served as animal paths and trails for native peoples for hundreds of years and thus became the natural path of commerce for white settlers, including the prosperous drovers road from around 1800 to 1828, when the Buncombe Turnpike was completed. This watershed topography provided a convenient downhill flow of produce: corn, wheat, hay, and livestock, to support the drover's road stock stands, in exchange for goods and services that flowed back to the upland farms. Thus, the farm culture of this marketshed was largely defined by an economy that was more than subsistence farming, and many of the early families became prosperous. The town of Warm Springs had become a national resort destination, requiring farm produce from around the region, and by the time Madison County was chartered in 1851, the farm economy, scratched from steep mountain terrain, was relatively healthy. This antebellum prosperity would have been reflected in its barns, homes, and outbuildings, yet very few of those buildings have survived to present day.
The disruption of the Civil War brought a decade of devastation to the region, only to begin its recovery by 1870 when bright leaf tobacco was introduced into the mountains. Farmers once again began to prosper, sawmills appeared on every creek, and the barns and houses of these farms were bigger and better, supporting a new generation of builders. By 1882 the Buncombe Turnpike was replaced by the railroad which, at first, caused major market problems for farmers, but eventually brought more commerce to farm families. From this period forward to the 21st century, farming and farm buildings were about tobacco and the evolution of barn types that support it.